Safety, Quality, Environment and Human Impacts are the Main Focus of the Lighting and Furniture Businesses in the Future
These were the main elements of an event organized by UL in April, gathering key guests from the world of Lighting and Furniture during the "Il Salone del Mobile" and "Euroluce"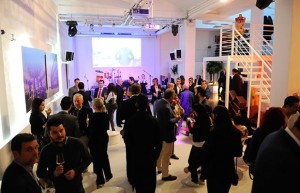 MILAN, April 15, 2015 saw UL's "Full of Light Experience and Sustainable Furniture" event.
This event was met with enthusiastic participation and great results.
Organized by UL, a global safety science leader, on Wednesday 15 April, it was held in the impressive location of 10 Watt, in Milan. The event brought together designers, architects, buyers, manufacturers and others interested in lighting and green furniture technology and design.
An occasion to celebrate the International Year of Light
This was an occasion to celebrate the International Year of Light (IYL) an initiative supported and promoted by the United Nations, and to reflect on new technologies of the lighting business. It also examined the positive effects of Light on life through Human Centric Lighting, a new approach that incorporates how light affects people's mood, rhythms, visual acuity and performance, together with the vital role that optical fibers, lasers, LEDs, microprocessors and other applications of photonic technology play in the home and workplace environments.
And since light and human care are also affected by sustainability, the event was an occasion for members of the furniture industry to meet and discuss themes such as the design of low-emitting furniture, and how it benefits interior environments and the people who live and work in them..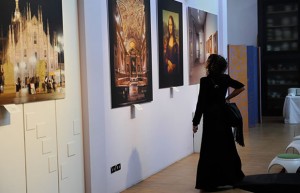 Also featured during the event was a photo gallery of projects realized with products tested or verified by UL. Spectacular images showing lighting and sustainable furniture projects (furniture that is GREENGUARD Certified) of international relevance and realized by Italian and international companies with the support of UL regarding the safety and sustainability aspects.
The event, organized in Milan, the capital city of Design during the International Salone del Mobile and Euroluce tradeshows, was an important occasion of dialogue, exchange of knowledge and sharing. UL, as a science company globally committed to safety and sustainability, wanted to highlight the importance of the dialogue of science and creativity with the industry, so that it can have concrete and positive consequences for the health and the wellbeing of people .
Bringing together Lighting, Furniture and Science associations
In addition to the support of IYL 2015, UL had the support several associations of the lighting and furniture businesses, including AIDI (Italian Association of Lighting), Apil, Assil, Assodel, Lighting Europe, PLDC (Professional Lighting Designers Convention), Federlegno Arredo, FEMB, U:S. Green Building council and Green Building Council Italia.
"Full of Light Experience" was patronized by the International Year of Light 2015, a global event promoted by the United Nations, of which UL is also a patron sponsor. The importance of Light and of the connected technologies to face the big challenges of the global development was highlighted during the distinguished speeches – among the others – of Joseph Niemela, Senior Research Scientist by the Abdus Salam International Centre for Theoretical Physics and Coordinator of the Global Segretariat of IYL 2015 and of Jeff Smidt, Vice President and General Manager of the global Appliances HVAC and lighting division in UL, during the evening presented by Joachim Ritter, Steering Committee Chair PLDC.
Human-centric Design: Sustainability and quality of life
"The International Year of Light" – declared Joseph Niemela – was proclaimed by UNESCO to bring attention to how lighting solutions can improve the wellbeing of everybody. The Human-centric lighting approach and lighting planning in general can improve the quality of the environments where we live. Light can be an important contribution to make our cities more livable and improve quality of life. The science is not enough to face the global challenges of this era, what we need is the involvement and cooperation of researchers, designers and industry to find proper solutions. We need to work in this direction, extend the research and create a cooperation system among the leaders of this sector. Innovation is the ability to create a dialogue between technology and creativity."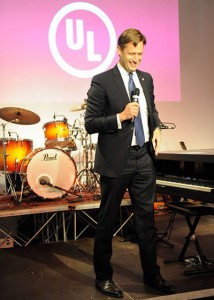 "Today in the lighting area– said Jeff Smidt – we find more and more awareness and knowledge. Not only are designers, architects and manufacturers very careful regarding innovation and technology, but consumers are also looking for more sustainable and safe solutions. Technological efficiency and energetic quality are very important. For this reason we need to work to create common standards, to which both designers and manufacturers can refer."
Also Marcello Manca, UL Vice President Government and Industries Affairs, took part to the evening and declared: "Today, the sustainability movement needs rules and structures. And for this reason the role of the certification body is increasingly important. Architects need to be able to work with certified and similar methodologies and the rule of the certification body should be the one to help Italian manufacturers maintain Italian boundaries: UL wants to guide the companies in those countries where they want to export their products."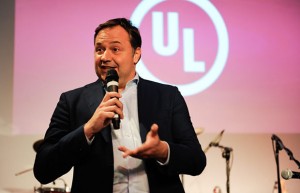 Alberto Uggetti
Alberto Uggetti, UL Senior Vice President and General Manager Global Furniture Business Division, closes saying: "We cannot think anymore that design and sustainability are separate one from the other, as actually these concepts are more and more connected. We need to help architects and designers build a greener and greener future, defined by clear and universal standards, and for this reason the role of the certification body is fundamental."


Supporting the Lighting and Furniture industries
UL supports the global lighting industry with testing and certification services in more than 50 countries. Its safety science expertise, worldwide reach, and active involvement in the lighting industry helps those in the lighting supply chain make informed decisions, gain access to new markets and meet regulatory requirements.
UL serves the furniture industry with laboratories around the globe, including a furniture testing and certification laboratory in Cabiate, Italy. The full-service laboratory is accredited to certify furniture products to UL safety standards, features a full range of performance and flammability testing, as well as chemical content and emissions testing. UL is also the only provider a GREENGUARD Certification, which tests as certifies that furniture products emit fewer chemicals.