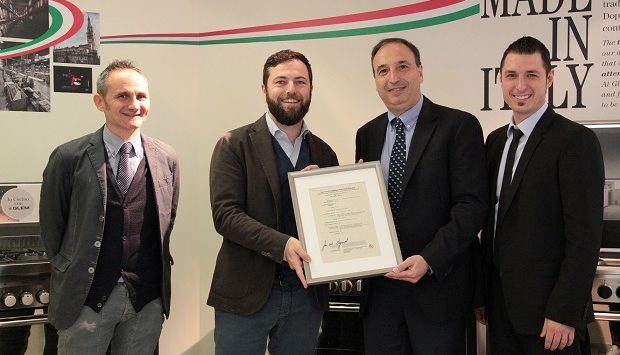 Manufacturers have a partner in market competitiveness
Glem Gas, S.p.A — an example of how UL strategically helps manufacturers get safer products to market faster.
Founded in 1959, Glem Gas S.p.A, makes the kind of stylish, beautiful appliances that we expect from Italy. Their products marry Italian tradition with technological innovation worldwide. Glem Gas, S.p.A. sells its products globally, a challenge for many manufacturers due to differences in regulatory requirements.
To help them navigate these global regulatory nuances, Glem Gas, S.p.A. works with UL to obtain worldwide support for the company's needs. UL's accreditation in 2017 as a notified body (NB) for gas appliances, combined with the expansion of its combustion laboratory, provided an opportunity for Glem Gas, S.p.A. to collaborate with UL to certify the entire FS Cookers series, 24 products in all, at the new UL laboratory in Carugate, Italy.
This certification occurred due to the new European Gas Appliances Regulation (GAR) which became effective on April 21, 2018. GAR introduced substantial changes to how gas appliance manufacturers can enter the EU market, including requirements such as long-term product risk assessments, consumer notification and ensuring products meet the evolving "state of the art" requirements.
The first certificate of the series, for a gas cooker, was issued after UL developed a test path in accordance with a full set of requirements. Specifically, the product was tested and certified according to the following standards: EN 30-1-1:2008+A1:2010; EN 30-1-2:1999; EN 30-2-1:1998; EN 30-2-1:1998/A1:2003 + EN 30-2-1:1998/A2:2005;EN 30-2-1:1998/A1:2003/AC:2004 + EN 30-2-2:1999; EN 30-1-1: 2008 + A3:2013; EN 30-1-2:2012; EN 30-2-2:1999; EN 30-2-1: 2015.
On May 22, 2018, Marco Crosignani, EMEA and Latin America director of UL's Appliances, HVAC and Lighting division, and Alessio Dellanoce, global sales director of the Appliances HVAC and Lighting division of UL, presented the certificate to Marco Guerzoni, marketing director of Glem Gas S.p.A during a special ceremony.
"For UL, it's an honor to support local Italian companies in meeting new regulations and remaining competitive in the marketplace," said Crosignani, while Dellanoce added, "Supporting companies like Glem Gas in their global success is how we measure our success, as we strive to provide the best service possible, with the highest regard for quality and our customers' satisfaction".
"For Glem Gas, having UL as a partner is fundamental, not only for the well-known TRUST that the UL Mark inspires for North American access, but above all, because UL enables us to have products with different characteristics available in all Global Markets in a safe and timely manner," said Guerzoni.
UL, with laboratories around the world and a strengthened team of engineers, offers a competitive advantage for manufacturers seeking faster time to market. To speak with a knowledgeable UL resource about how to meet GAR requirements, please contact us.