See expert speakers from UL at Iluminotronica – 10th October
October 10, 2014 | Padova, Italy
Meet UL at STAND F14
Find out how to get Global Market Access in a time-efficient way and with reduced certification expenses with One Process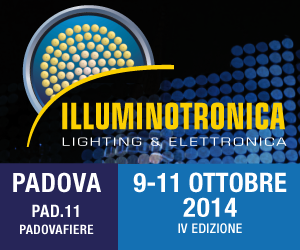 Combined Single Certification (UL + IEC) – 10th October 2.30 pm
ON FRIDAY 10th OCTOBER, AT 2.30 PM, IN THE THEATRE OF THE EXHIBITION HALL,
Mario Iavarone (Corporate Accounts Manager) and Luca Tibaldini (Engineering Manager) will share with you the new service available for LED Portable and LED Surface Luminaires:
THE COMBINED SINGLE CERTIFICATION (UL + IEC).
If you want to learn more and take part to the update, please send an email to valeria.zappala@ul.com
Benefit from Limited-Time Promotions* available for a high performing LED product.

*For a limited time UL is offering special promotions for Performance Testing on LED Modules and LED Luminaires.
The UL Team is looking forward to meeting you at STAND F14!