North American Regulations: Updates, Insights and News
April 12, 2018 | Crowne Plaza Padova, Via Po 197, 35135 Padova, Italia
UL Italy is pleased to take part in, "North American Regulations: updates, insights and news", organised by Rockwell Automation on 12th April 2018 at Hotel Crown Plaza in Padova. There will be an introduction to the North American market and various presentations and discussions about new and updated guidelines.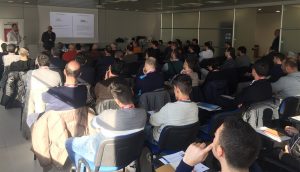 Designing an industrial control panel according to UL508A comes with specific requirements. This event will be the ideal opportunity to explore updates and learn more about the standard with UL experts who can help you plan your market access strategy!
The event is free and sponsored by Rockwell Automation.
More information & registration